First, a reminder to enter my
blogiversary giveaway
.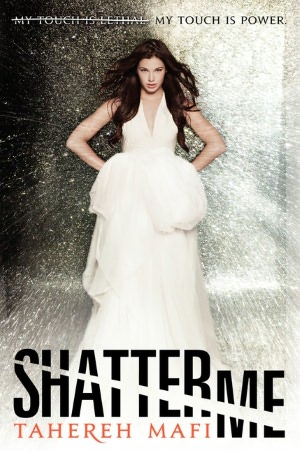 Title:
Shatter Me
Author: Tahereh Mafi
Publisher: HarperCollins
Genre: YA (dystopia)
Why I read it/how I found it: I followed Tahereh Mafi's blog, and heard about it there.
Description:
No one knows why Juliette's touch is fatal, but The Reestablishment has plans for her. Plans to use her as a weapon.
But Juliette has plans on her own.
After a lifetime without freedom, she's finally discovering a strength to fight back for the very first time—and to find a future with the one boy she thought she'd lost forever.
Review:
Have you ever read a book and thought, dang it, why can't I write like that? That's Shatter Me. The prose was beautifully crafted. I'd heard about the strike-outs before, and I wasn't sure how I'd feel about them, but even when the first one came up I didn't need to get used to it. It was a natural extension of the story and Juliette's character. I also really enjoyed the characters in this book. I can't say that Juliette will make it into my favorite protagonists of all time, but I do appreciate what she went through and the layers that Mafi put on her. She has anger, feelings of abandonment, loneliness, but she's always trying to do the right thing. For me, that's a crucial part of me liking a character--I'm all for the good guys. The love interest, Adam, was awesome--tough but caring. He turned out totally different than what I'd been expecting when first introduced. As for Juliette and Adam's relationship, I did have trouble buying the fact that they supposedly knew each other before, they both liked each other, but never spoke. They were sitting along the same chain fence for six years without any friends but never talked to each other? I didn't buy that part of it, but the rest I could get into. Mafi really knows how to write sexual tension. Whew! As for the villain, Warner, he was an interesting, twisted character. I really didn't like him, but in the good way that you're supposed to not like a villain. The few other characters, James and Kenji, I also really liked, with their own unique personality. This book has a lot of great action, and it's always moving through with hardly ever a slow moment. The ending though, I'm not sure how I'm liking it yet. I'll have to see how it gets incorporated into the next book to see if the plot development works or not.
Other information: There are two more books to this trilogy, currently untitled.
Shatter Me
has been optioned for film by Twentieth Century Fox. You can find Tahereh Mafi's website
here
.
On a non-book review note, Happy New Year! May 2012 be an awesome year for all of you.
And a song with Zooey Deschanel and Joseph Gordon Levitt (in case you haven't heard it yet):