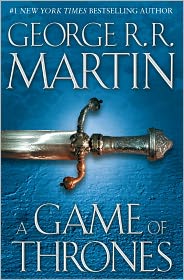 Title:
A Game of Thrones
Author: George R.R. Martin
Publisher: Random House
Genre: Fantasy
Why I read it/how I found it: A lot of people talked about it since HBO launched it as a new TV series.
Review (so far): Well, this book is about 800 pages long. And they aren't even Harry Potter 800 pages. This is tiny type, and pretty close together, so I'm around page 450 now. With that said, I still feel like I could be tearing through the pages of this, but I'm not. I'm guessing it's the writing, because I do enjoy the plot and I love the dimensions of all the characters. Like real life, this book has very few "good" and "bad" people in them straight out. I don't feel that I can give much of an in-depth review with a little less than half the book to go, so we'll see how I feel next week.